It might seem that mankind has been cruising ever since the beginning of time but the truth is that cruising as a leisure product was invented as late as 1900.
In 1835, an entrepreneurial sailor named Arthur Anderson had a vision of providing passenger service between European sailing routes, and 2 years later he cofounded the Peninsular and Oriental Steam Navigation Company (P&O), which can be considered the first cruise company in the world. After that, more attention has been directed toward enjoyment of the ship passengers and the ships have taken the form of luxury "floating hotels". It is interesting that in the 2016 cruise season only 5 of 25 largest cruise ships in the world are sailing across Europe. Other biggest cruise vessels are designated for cruising in the Caribbean area. Europe is a true jewel regarding cruise offers – Barcelona, Copenhagen, Rome, Greek islands, Scandinavian fiords, British castles, etc. As Europe is the cradle of the cruise industry, we decided to list 5 largest cruise ships that are in Europe in 2016.
5. MSC Fantasia (23rd largest cruise ship in the world)
MSC Fantasia is the fifth largest cruise ship that will travel around Europe in 2016. For most of the season it will circle the Mediterranean and offer 7-day round trips. The cities and ports it will visit are:
Rome
, Genoa, Katakolon, Haifa, Iraklion,
Athens
,
Barcelona
, Casablanca, Tenerife, Malaga, Funchal, Ajaccio,
Palma de Mallorca
, Cannes, Naples, La Spezia,… Limos4 limousines are at your disposal for your cruise port transfers in the cities of Barcelona and Rome.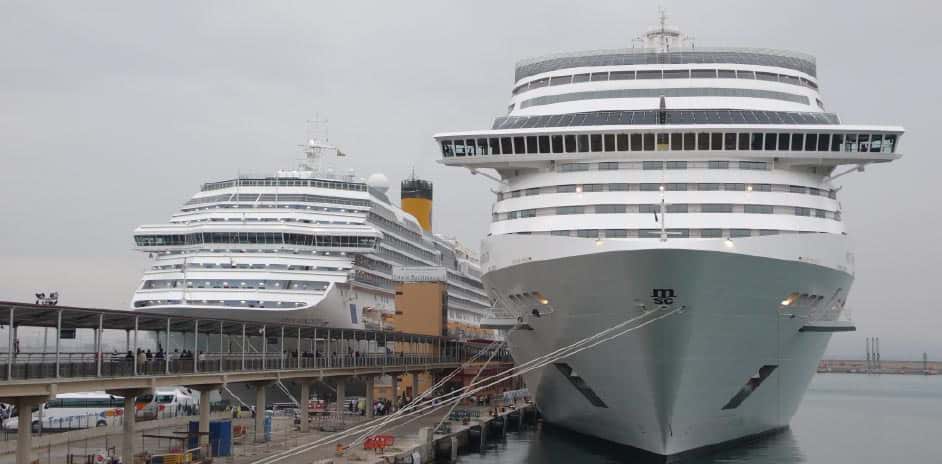 4. MSC Preziosa (19th largest cruise ship in the world)
MSC Preziosa had a rough ''childhood'' as it was firstly named Phoenicia and was to be built for the Libyan state-owned company – General National Maritime Transport Company (GNMTC). It was planned to have a 120-ton shark aquarium which was specified by Hanibal Gaddafi, son of Muammar Gaddafi, Libya's leader at the time. As the war in Libya broke out, STX France (the shipyard where Preziosa was to be built) canceled the contract with GNMTC and started looking for a new buyer. In 2012 MSC stepped in, bought a vessel for 550 million euro and renamed it Preziosa. Preziosa will offer 6- and 7-day round trips in the Mediterranean Sea region, visiting the following ports and cities: Barcelona, Rome, Genoa, Palermo, Valletta, Marseille, Valencia, La Goulette,…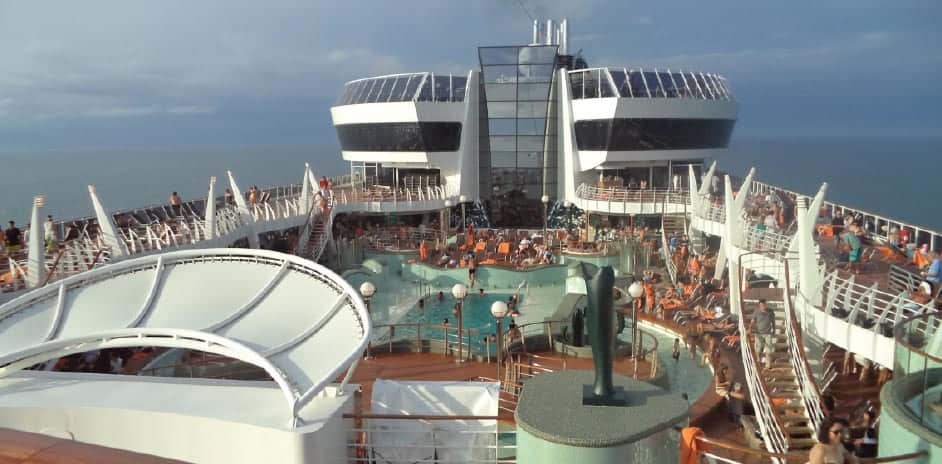 3. Britannia (14th largest cruise ship in the world)
It was built in Monfalcone in Italy, and being named Britannia, it's logical that it is related to the United Kingdom in a way, and it has 94-meter long Union flag on her bow – the largest one of its kind in the world. Britannia has a total of 1837 cabins and can take up to 4300 passengers. It has a number of facilities dedicated to fun and the wellbeing of passengers: a theatre, swimming pool, spa center, numerous cafes, restaurants, shops, etc. Its cruise route is a bit different from the previous vessels, as Britannia will cruise around Norwegian fiords and not only the Mediterranean. The places and ports it will visit are: Southampton, Bergen, Alesund, Flam, Stavanger, Guernsey, Santa Cruz de la Palma, Gran Canaria, Arrecife, Agadir, Lisbon, Vigo, Barcelona, Cartagena, Gibraltar, Bilbao, La Coruña, Cadiz, Monaco, Rome, Naples…
2. Norwegian Epic (8th largest ship in the world)
Norwegian Epic is a part of the Norwegian Cruise Line – NCL. Their cruise ships are famous for beautifully and artistically painted hulls. Epic has a capacity of 4100 passengers and is well-known for its onboard entertainment options. Some of those options include parties led by a celebrity DJs, multiple theatre shows, etc.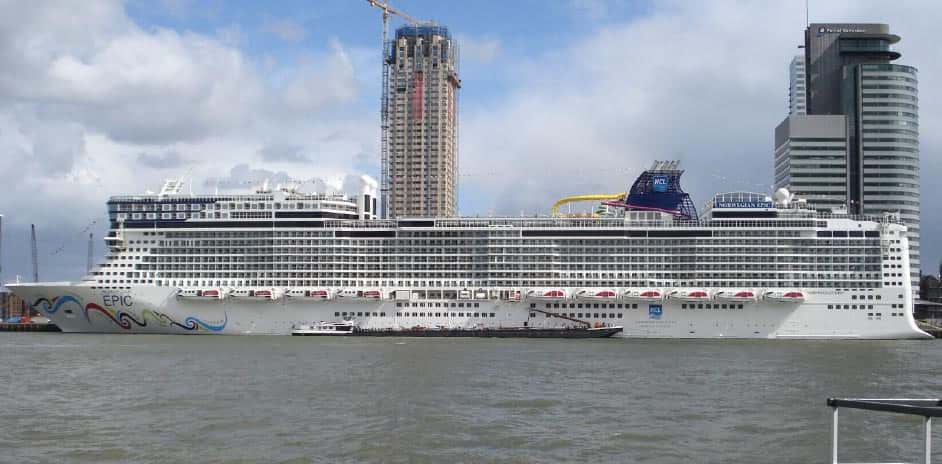 It offers 7-day round trips in the Mediterranean, visiting cities and ports like: Rome, Barcelona, Naples, Marseille, Cannes, etc.
1. Harmony of the Seas (the world's largest cruise ship)
Built in Chantiers de l'Atlantique in France, it's already set sail and is being tested. Its first commercial 4-day trip will start on Sunday, May 22, from Southampton to Rotterdam and back to Southampton. It will spend the 2016 summer cruise season in the Mediterranean, doing 7-day round trips from
Barcelona
and
Rome
, with stops in
Palma de Mallorca
, Marseille, Florence and Naples, and back to Barcelona or Rome. Limos4 is proud to be at your disposal in the ports of Barcelona and Rome. After finishing the season in Europe, Harmony of The Seas is setting course for Fort Lauderdale Port in Florida, from where it will begin its American tour.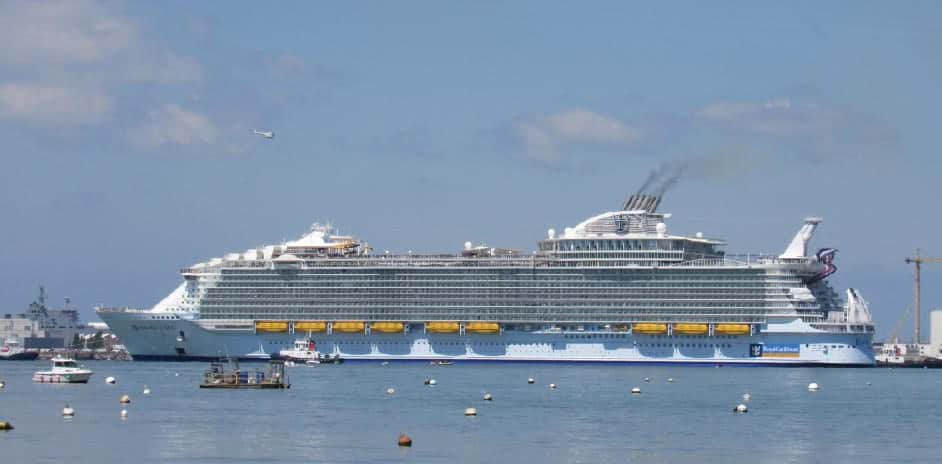 is at your service in most of these cities and ports. You can book a transfer or a sightseeing tour for one or multiple cities with just one call or email. If you are/will be a passenger on any of the vessels listed above, we wish you tremendous fun and great enjoyment.